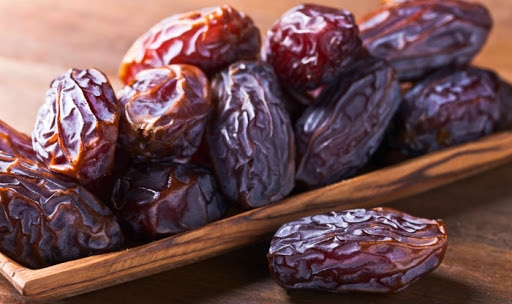 Chickpeas Onions and Soft Dates
2 tablespoons extra virgin olive oil
2 tablespoons unsalted butter
1 small sweet onion, finely diced
2 tablespoons tomato paste
10 large soft dates, pitted and chopped
1 teaspoon ground cardamom
1 teaspoon ground cumin
1 teaspoon ground coriander
Kosher Salt
Red pepper flakes, optional


1.
If using caned cooked chickpeas, drain only do not rinse and set aside.
2.
Combine all spices in a small bowl.
3.
In a medium skillet over medium heat, heat the oil until it begins to shimmer. Add the onions and sauté for a few minutes, until they have softened and just beginning to turn golden. Move the onions to one side of the pan; add the tomato paste in the center of the pan and stir to flatten the tomato paste. Allow tomato paste to roast about 2 minutes. Add the spice mixture and let toast for a minute. Stir the onions, tomato paste, and spices together.
4.
Add the chickpeas, dates, and 1 cup of warm water. Cover and simmer the mixture for 15 minutes, stirring occasionally to combine the flavors. Cook until the dates have softened and the chickpeas are tender. You can add a splash of warm water if the pan gets dry. Serve warm.
This is a North African recipe that combines naturally sweet dates with savory chickpeas and onions with fragrant spices used to season this delicious dish. It can be served as a meal from vegetarians, vegans can exclude the butter, and it can be eaten by all as a side dish.